Homa Farm of Madanmohan Waded, Ghataprabha, District Belgaum, Karnataka, India.

Madanmohan reports:
"I am experimenting using HOMA Biosol on various crops and have received amazing results. All these findings I am recording by taking photographs. We would like to reach out to many readers about the importance and quality of Homa organic farming and its produce. We feel that we need to share knowledge and information regarding Homa farming and its benefits so that people should demand Homa organic produce and food."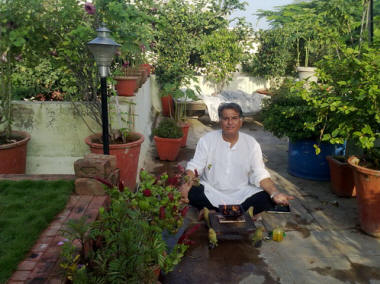 Two Agnihotris living in the city show the effects of Agnihotra and Agnihotra ash on their rooftop gardens.
Mr Arun Anand, an engineer who lives in the city of Indore, Madhya Pradesh, and Mr Chalasani Dutt, a former entrepreneur become organic gardener who now operates the mango plantation "Prakash Bio Organic Farm" in Vijaywada, Andhra Pradesh. Continue reading "Homa Roof-Top Terrace Gardening in India"

Homa Therapy International has a new YouTube Channel.
Here you can view the full 24 Golden Messages of Shree Vasant Paranjpe.