Ancient Oaks Children's Program 2017–Another Success!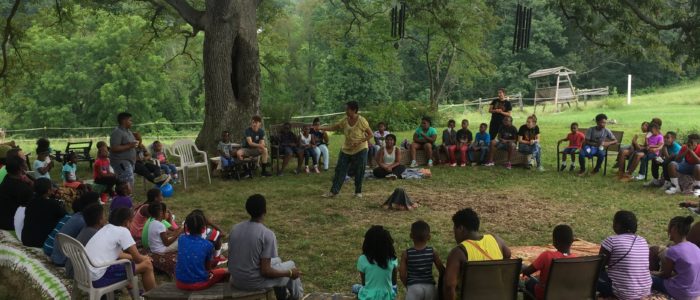 Patricia (Patty) Norton and Maria Broom
It was one of Shree Vasant's greatest dreams to bring children from the heart of Baltimore city out to our Homa farm where they could experience green open spaces and a healing atmosphere saturated with Homa fires. With a generous grant from the Krieger Fund, the Baltimore Homa Community was able to offer a second year of their Children's Summer Farm Program at Ancient Oaks Homa Farm in Westminster, Maryland. Eight groups–over 300 children–came to enjoy a half-day of hiking, drumming, dancing, yoga, sound healing, storytelling, tasty vegetarian lunches and quiet meditation with Homa fire, not to mention lots and lots of free time to just run and play without fear of traffic, violence or bullets. With wonderful, flexible facilitators and plenty of Shree's grace we were able to do all of this and it is extremely humbling.